Regular price
Sale price
£22.95 GBP
Unit price
per
Sale
Sold out
Save 20% on multipacks

Order 3+ save 10%
Order 6+ save 20%
Discount automatically applied at checkout.
Helps you recover your natural sleep cycle without sedatives.
No morning drowsiness.
Nootropic sleep supplement.
Magnesium Glycinate - the best magnesium for sleep.
Calming amino acids.
Get to sleep more easily, and fall asleep quicker if you wake in the night.
Share
View full details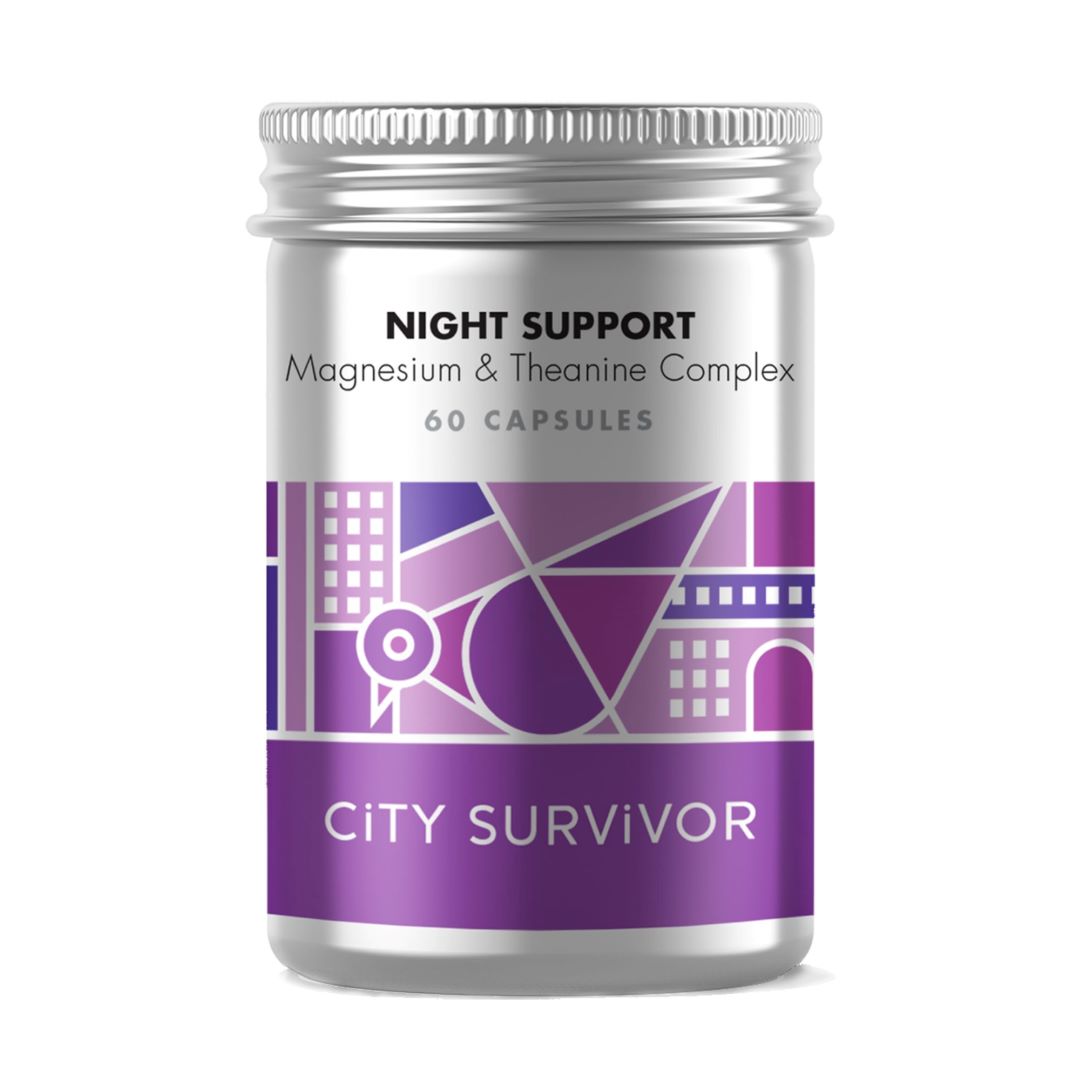 Collapsible content
How to use

Directions: Take 2 capsules 30 minutes before bed.


Supplement safety

Do not exceed recommended daily intake. Food supplements should not be used as a substitute for a varied and balanced diet and a healthy lifestyle.

When pregnant or if taking prescribed medications please consult your doctor before use.
Ingredients

Magnesium Bisglycinate, L-Taurine, Capsule Shell (Vegetable Cellulose), L-Theanine

Vegan & vegetarian. 

Free of GMO, dairy, soy, gluten.

No added excipients (bulking agents, colours, flow agents, sweeteners or flavours) - our capsules are filled with the active ingredients only
FAQs
When should I take my supplements?

General guidelines

Magnesium complexes can be taken with or without food. For most people, they are helpful in the evening, after exercise, or for daytime calm and concentration.
Multivitamins are best taken with breakfast or lunch.
Fish & Omega oils are better taken with food.
I have trouble swallowing pills; can the capsules be opened and sprinkled on food/water?

Yes - all of the City Survivor range are in vegetarian capsules which can easily be pulled in half and the contents emptied into a cold drink.

You can also add the contents to food, though it may impact the flavour.

From our other ranges, go for the Bare Biology liquid fish oil rather than capsules, and the Collagen powder which can be mixed with any drink.
Why do some ingredients exceed 100% of the NRV?

NRV doesn't refer to maximum safe intakes; it's the estimated amount needed to prevent deficiency.

When formulating a supplement, I'm looking not only at NRVs but at optimal intakes for great health, and taking into consideration the increased demand for certain nutrients because of our lifestyle - pollution exposure, poor quality food, alcohol consumption, stress, common illnesses etc.
Love this product! I had so much trouble sleeping before I started taking this. Love that you can have a subscription and the customer service is amazing! I accidentally had two subscription for the same product and they contacted me and sorted it out straight away.
Try it, you'll never look back!
Fantastic product. I've been taking for about 5 years. Can't recommend enough. I take it every night and as a woman in the peri menopause, I sleep very well. I've even converted my husband who has never taken supplements!
Great to be able to sleep again
Since menopause I had struggled to sleep through the night. I am sure that Night Support has enabled me to sleep again, I use it every night.
Great Product
An absolutely fantastic product, I find it immensely helpful especially for joint pain
Stackable supplements

City Survivor supplements are carefully formulated so you can safely combine them to meet your needs.

Don't forget

The best way to remember to take your supplements is keep them in view, somewhere convenient for your routine.