City Survivor
Regular price
Sale price
£34.95 GBP
Unit price
per
Sale
Sold out
Save 20% on multipacks

Order 3+ save 10%
Order 6+ save 20%
Discount automatically applied at checkout.
Your nutrition safety net - designed to help you meet the increased nutrient demands of modern life

.
Counter nutrient depletion from stress and pollution.
Keep energised with B Vitamins & CoQ10.
Increase your resilience in times of stress.
Minimise the aftereffects of indulgence, like post-party hangovers.
Nourish and strengthen hair, skin & nails.
Research shows multivitamins to be protective of memory & cognition.

Free from Iron.
Share
View full details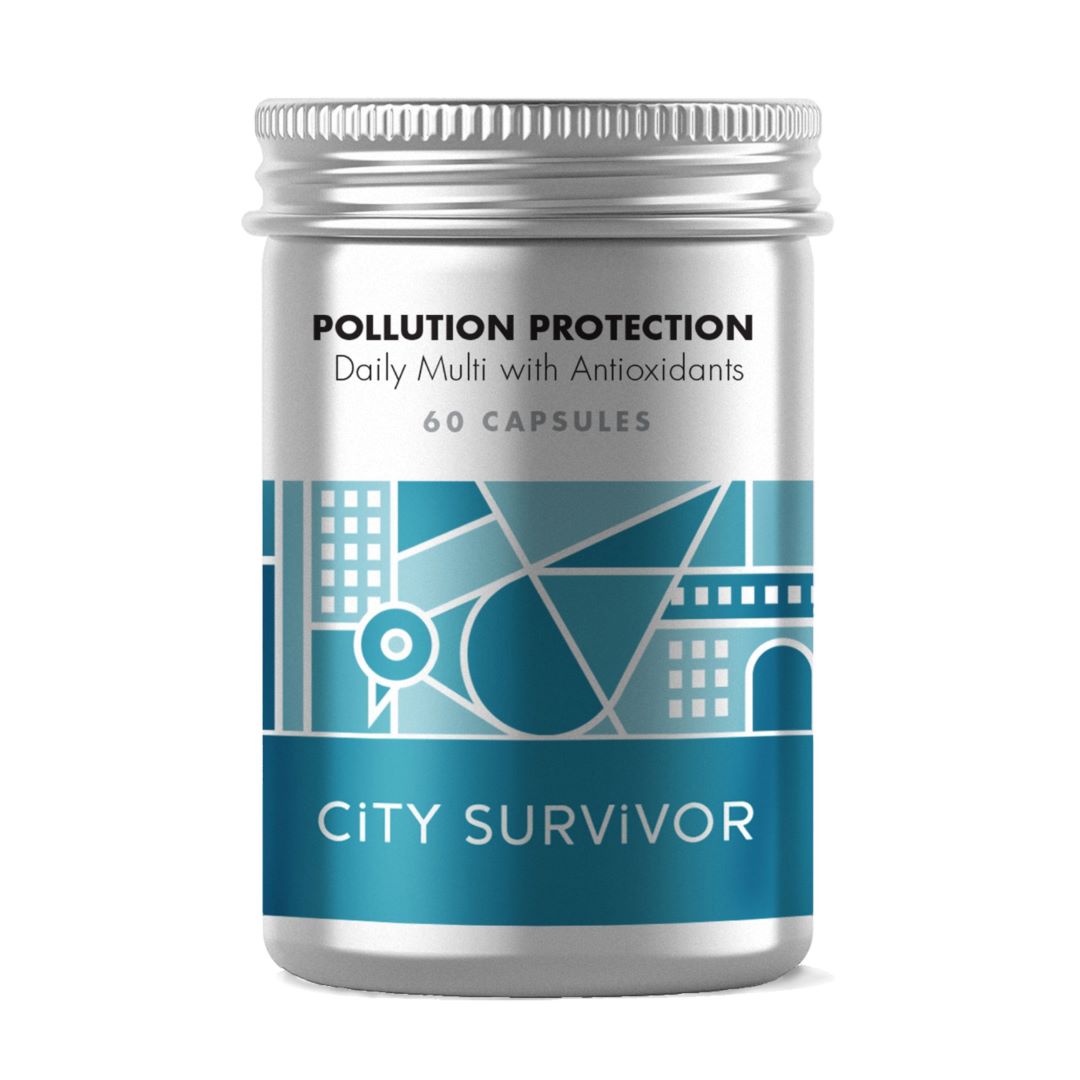 Collapsible content
How to use

Directions: 2 capsules daily with breakfast or lunch.

Highly recommended: take Vital Minerals Magnesium separately, in the evening. 

When pregnant or if taking prescribed medications consult your doctor before use.

Food supplements should not replace a varied and balanced diet and a healthy lifestyle. Do not exceed recommended daily intake.
Ingredients

Ingredients: N-Acetyl L-Cysteine, D-Alpha Tocopherol Succinate (Vitamin E), Calcium-L-Ascorbate (Vitamin C), Capsule (Vegetable Cellulose), Beta Carotene (Natural Mixed Carotenoids from Dunaliella Salina), Choline Bitartrate, Zinc Picolinate, Alpha Lipoic Acid, Co-Enzyme Q10, K2Vital® Delta (Vitamin K2 as Menaquinone-7), Nicotinamide (Vitamin B3), Calcium D-Pantothenate (Vitamin B5), Sodium Borate, L-Selenomethionine (Selenium), Pyridoxal-5-Phosphate (Vitamin B6), Manganese Bisglycinate, Copper Bisglycinate, Cholecalciferol from Lichen (Vitamin D3), Riboflavin-5-Phosphate (Vitamin B2), Thiamine HCL (Vitamin B1), Calcium-L-Methylfolate (Folic Acid), Chromium Picolinate, Potassium Iodide (Iodine), Methylcobalamin (Vitamin B12), Ammonium Molybdate (Molybdenum), D-Biotin

The natural Beta-Carotene complex derived from natural D. Salina Algae also contains Alpha Carotene, Xanthophylls, Lutein and Zeaxanthin.

Vegan & vegetarian. No added excipients. Free of GMO, dairy, soy, gluten.
FAQs
When should I take my supplements?

Take Pollution Protection Multivitamin with breakfast or lunch. This ensures your digestive system is geared up and you have fat for the fat-soluble vitamins. It may make you feel queasy if taken on an empty stomach - Zinc tends to have that effect.
Try Night Support or Vital Minerals Magnesium 30 minutes to 1 hour before bed to get the most from its calming effects. Can also be used in the daytime or after exercise as needed. Magnesium doesn't need to be taken with food.
I have trouble swallowing pills; can the capsules be opened and sprinkled on food/water?

Yes - all of the City Survivor range are in vegetarian capsules which can easily be pulled in half and the contents emptied into a cold drink.

You can try on food too but may find the taste of some supplements unpleasant.

From our other ranges, go for the Bare Biology liquid fish oil rather than capsules.
Why do some ingredients exceed 100% of the NRV?

NRV doesn't refer to maximum safe intakes; it's the estimated amount needed to prevent deficiency.

When formulating a supplement, I'm looking not only at NRVs but at optimal intakes for great health, and taking into consideration the increased demand for certain nutrients because of our lifestyle - pollution exposure, poor quality food, alcohol consumption, stress, common illnesses etc.
Why doesn't your multivitamin contain magnesium or calcium?

A multivitamin typically comes in 1 or 2 capsules/tablets per day. The body needs much more magnesium than can fit in a multi alongside all the other ingredients - it's a very bulky ingredient.

That's why City Survivor keeps it separate in our Vital Minerals Magnesium capsules.

The same applies to calcium, but not everyone needs to supplement it. If you have bone density issues or a diet that's low in calcium you may need to, and remember the Vitamin D3 and K2 provided in Pollution Protection are just as important for bone health 

Leaving macrominerals out of Pollution Protection allows for the excellent quantity of antioxidants (like CoQ10, Alpha Lipoic Acid and NAC)  which you don't get in other multivitamin formulas.

The amount of magnesium in multivitamins is so tiny, most people need to buy a separate magnesium supplement anyway. If you see a multi that appears to have plenty of magnesium, they've probably used magnesium oxide - poorly absorbed and acts as a laxative!
Why doesn't your multivitamin contain iron?

Not everyone needs to supplement iron. Very little iron is excreted - mainly only via blood loss/menstruation & pregnancy - and it's toxic to our organs in excess. So it's impossible to make a multivitamin suitable for everyone's iron requirements. 

High iron excretion by menstruating women results in low iron stores, necessitating a supplement with more iron than can be included safely in a multi for everyone else.

Assuming normal dietary intake, lots of men won't need an iron supplement at all.

So excluding iron from Pollution Protection ensures it's safe for everyone to take. Those of us with greater iron losses have the flexibility of adding a single iron supplement at a suitable dose.
Perfect multivitamin
Great product with what I need and reassuring to know that quality is the top priority when choosing ingredients, Def worth it for your daily health and wellbeing.
Great daily multivitamin!
Great festival vitamin!
I took pollution protection every morning whilst at Glastonbury festival and it really helped me power through, an amazing product!
Pollution Protection
I was feeling run down and I've really noticed a difference in my energy levels since taking these AND an improvement in the condition of my skin, hair and nails. I also love that Daisy is always on hand to answer my questions. Thanks Daisy!
Great
I love the product and love the fact that you're within an email's reach of nutrition guidance and advice from Daisy!